Notice
: Trying to access array offset on value of type null in
/home/gamesniped/public_html/wp-content/plugins/seo-image/seo-friendly-images.class.php
on line
869
Notice
: Trying to access array offset on value of type null in
/home/gamesniped/public_html/wp-content/plugins/seo-image/seo-friendly-images.class.php
on line
869
Notice
: Trying to access array offset on value of type null in
/home/gamesniped/public_html/wp-content/plugins/seo-image/seo-friendly-images.class.php
on line
869
Notice
: Trying to access array offset on value of type null in
/home/gamesniped/public_html/wp-content/plugins/seo-image/seo-friendly-images.class.php
on line
871
Notice
: Trying to access array offset on value of type null in
/home/gamesniped/public_html/wp-content/plugins/seo-image/seo-friendly-images.class.php
on line
871
Notice
: Trying to access array offset on value of type null in
/home/gamesniped/public_html/wp-content/plugins/seo-image/seo-friendly-images.class.php
on line
874
Notice
: Trying to access array offset on value of type null in
/home/gamesniped/public_html/wp-content/plugins/seo-image/seo-friendly-images.class.php
on line
874
Notice
: Trying to access array offset on value of type null in
/home/gamesniped/public_html/wp-content/plugins/seo-image/seo-friendly-images.class.php
on line
885
Notice
: Trying to access array offset on value of type null in
/home/gamesniped/public_html/wp-content/plugins/seo-image/seo-friendly-images.class.php
on line
886
Notice
: Trying to access array offset on value of type null in
/home/gamesniped/public_html/wp-content/plugins/seo-image/seo-friendly-images.class.php
on line
887
Notice
: Trying to access array offset on value of type null in
/home/gamesniped/public_html/wp-content/plugins/seo-image/seo-friendly-images.class.php
on line
888
Notice
: Trying to access array offset on value of type null in
/home/gamesniped/public_html/wp-content/plugins/seo-image/seo-friendly-images.class.php
on line
889
Not much today. But enough anyway!
Nintendo
demo:
SUPER NINTENDO SUPER METROID DEMO CART
Rarity:
NINTENDO CLOTHING STARFOX JACKET

The jacket given during the competition!
Game Boy LE:
Game Boy Color Tommy Hilfiger
Too many around. I'll stop posting these unless a boxed one pops up.
Some art:
The Legend of Zelda DiC cel

He has 3 cels for sale. Check his shop.
MARIO BROTHERS GENUINE PRODUCTION CEL

I've got 3 cels that come from Donkey Kong Cereal's spot were Mario is drawn this way. But the background…I don't know. Maybe this cel comes from the Donkey Kong based segments of CBS's Saturday Supercade in 1983 (same years of the cereals AFAIK)
Â
Intellivision rarity:
Spiker! Super Pro Volleyball Rarest Intellivision Boxed
Â
PlayStation
Dev:
PlayStation 2 Debugging Station dtl-h10000s Electronic Arts

A debugging unit used by EA.
Room-item:
PLAYSTATION Official LIGHTED DISPLAY SIGN
Â
Atari Promotional 2600:
Atari lot with promo system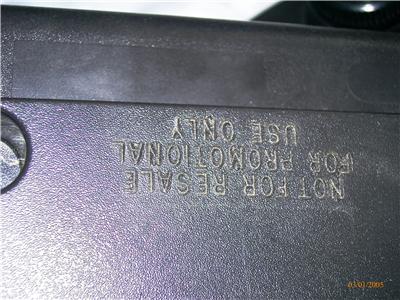 Used for demo purposes.