PONG CLOCK by Buro Vormkrijgers

This was produced by Buro Vormkrijers, a Dutch design studio. The actual designer was Sander Mulder. Only 400 were produced. And sold out in 1 day.
Matchbox Ford Bronco Nintendo Unreleased Model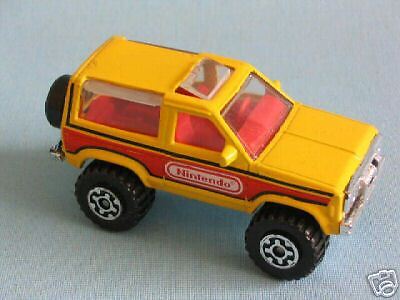 Just close your eyes and dream of this sexy beauty in your collection…
A big cockpit for NASCAR & other driving simulators…with grill

Other stuff:
Sonic The Hedgehog – Sega Classic Dart Flights
GAMEBOY LIGHT FAMITSU LIMITED MAIL ORDER BOX
Sonic the Hedgehog Sega Genesis launch folder
Super Mario World Store Display Sign
DREAMKEY V2.0 DREAMCAST SILVER-GOLD PROMO
Sealed Atari 7800 Diagnostic Cart
Sometimes collecting require bravery. Are you brave enough to buy this Killer Instinct child's bike helmet, this NINTENDO SUPER MARIO BROS BIKE BLASTER and showcase both? Maybe near the Bronco model?