Handmade Turren For The Wow Lovers

One of a kind! Funny description too: I am a tauren, (cow) made with special care. I'm made of a different kind of sock that fits my character. I am 20" tall with my tail measuring 3.5". My outfit is well made; my weapon is strong so that I have the power to fight my battles that might arise. I stay alive to serve nature and maintain balance involving wild things. I would be a great addition to your collection, so let the bidding begin!!
Playstation G-Police game leather jacket

For this great find I must thank Festerfly from the ASSEMbler community!
He posted the link in the Ebay discussion forum. Great job!
Pro Evolution Soccer 2008 Signed By C. Ronaldo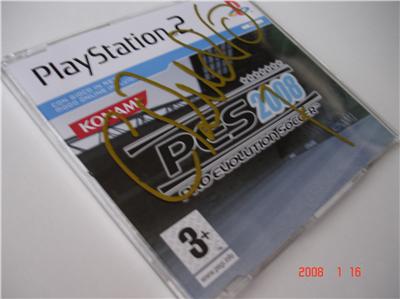 Promo disc. I don't like soccer but I'm Italian. There's something wrong in my mind.
Soccer lovers, enjoy!
Sega Display Cabinet Sega Video Games
Three Nintendo kiosks:
Game Boy Advance Store Display System Wall Unit
Nintendo 64 Store Display Kiosk
Super Nintendo store display system