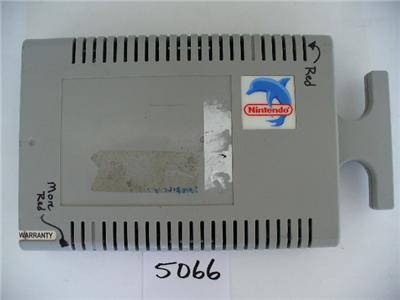 It's used, so it may contain something…
…you may think about buying this one too if you live in Europe:
NPDP-GDEV Beta from France
Sometime I realise that not everybody knows the stuff I post: this NPDP cart is actually an hard drive that may contain various GameCube games.
You needed an NPDP Reader or a GDEV/GBOX to read this cart and test, debug or demo the games you were producing.
Since this system was fragile and very expensive, it didn't last long. This makes those carts rare. The fact that this particular one was actually used adds the curiosity to discover if it still contains one or more games, released or not.
Other stuff:
Dreamcast System autographed by Fred Durst with funny description
Sonic Chaos Emeralds, promo or random plastic fake diamonds?
The Simpsons: Barts Nightmare SNES SAMPLE
Console Yeno Super Cassette Vision from France – officially sold in France. Obscure import item!